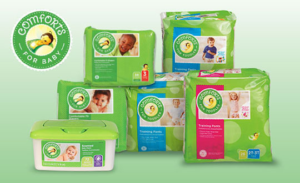 Let me preface by saying I usually shy away from store brand or "cheap" wipes and diapers. I have 4 kids (9 to 7 months) and we've always been Pampers (diapers) and Huggies (wipes) parents. With baby #1 he had a bad reaction to a store brand diaper and we just never went that way again for fear of it happening again.
Well, baby #4 turned out to be allergic to Pampers diapers and wipes so we changed to Huggies diapers. Having such a bad history with different things made me skeptical to try the Comforts for Baby® wipes and diapers but I am so thankful I did!
The wipes are strong, nice smelling and best of all they do not irritate my baby's little bum! The diapers worked just as well as Huggies and Pampers and no bad reactions to those either!
We will definitely be buying Comforts for Baby products again 🙂
I received free samples of these products to try from BzzAgent. I was not required to write a positive review. The opinions I have expressed are my own and unbiased.