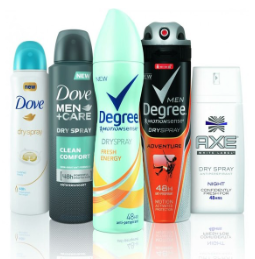 I tried the Dove Dryspray and I was pleasantly surprised to find it outperformed my regular clinical strength antiperspirant. I am a mom so I have my fair share of hormones that make me sweat … a lot. This deodorant/antiperspirant surprised me! I spray some on in the mornings and I'm good until the next morning.
I also loved the nearly-instant drying. Being a mom I'm almost always in a hurry to get dressed so waiting for deodorant to dry isn't something I have time for. With Dove dry spray that isn't a problem. The little spot that got on my shirt dried without leaving any residue or spot.
Why only 4 stars? Well the spray is well … a spray, so that means fumes and chemicals in the air after you put it on. I have to hold my breath, spray under both arms, then run out of the room for a breath.
I received a free sample of this product from BzzAgent to try. I was not required to write a positive review. The opinions I have expressed are my own and unbiased.