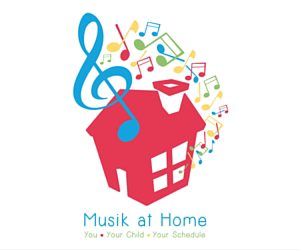 Do you want to include more music into your child's day? Musik at Home is definitely worth your time! They offer fun music engagement classes (in video format) for babies, toddlers, and preschoolers.
Since I have toddler and preschool-age kids, I was invited to try both sets of classes with my little ones. At first the Musik at Home program seemed a little daunting, because there is so much information on their website, but once we dove in to the songs and videos I realized how simple it is. You watch the lessons together with your child and play or encourage them to sing and play along. Of course they offer extra materials to enhance the experience for your child such as rhythm sticks, shakers, etc.
From the Musik at Home website:
Musik at home is an online music studio for babies, toddlers, preschoolers and pre-K. If you're a busy parent who wants more music in your child's life, Musik at Home is here for you! Teaching Musikgarten's internationally renowned curriculum, licensed and certified Musikgarten instructor, Kathryn Brunner, brings music classes to you in your home, on your schedule with easy to follow instruction for you and your child. Classes are designed to foster intimacy between you and your child while developing your child's music aptitude through joyful musical play.
If you still aren't sure what Musik at Home is all about, here is a overview for you:

I personally liked how active and engaging the videos are. Kathryn and the children are always doing motions or dancing. My own kids were enraptured with the songs and activities. They wanted to watch more each time did a lesson. Kathryn can put just about anything to music and keeps the kids' attention. She also encourages the children to make up their own lyrics and dance moves or motions. My daughter (4) really liked listening to and mimicking the animal sounds in the "Pond Play" class. Each episode is less than twenty minutes, so they aren't so long the kids get bored, but still long enough to give a few musical foundations.
I would recommend the Musik at Home programs to parents with babies, toddlers, or preschoolers, and would like them to have more musical interaction through fun songs and play.
Be sure to checkout the Musik at Home website including their great FAQ page! You can also connect with Musik at Home at their Facebook Group, Facebook page, Twitter or YouTube.