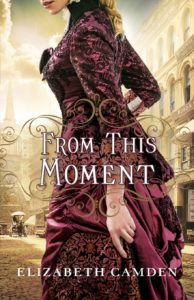 From This Moment
by Elizabeth Camden
If you love a good suspense and mystery mixed with a dash of romance, then you will love From This Moment. Set in Boston in 1897, on the cusp of the first underground subway, the story is full of vivid details and lots multifaceted characters. Romulus White has carved a life for himself out of nothing by building up a scientific magazine. Stella West has lived a charmed life by way of her artistic abilities, but she has recently given it all up to solve her sister's murder.
Romulus wants to hire Stella to illustrate his magazine advertisements and articles, but Stella refuses to put aside her mission. The police have ruled her sister's death an accident, but she's convinced her sister was involved in something deep in the city government which may have resulted in her death.
When Stella asks Romulus for his help in exchange for some artwork, sparks fly. Stella's methods for investigating the case make them both a target for gossip and retaliation from all angles. Things get personal between them, but Romulus' past keeps him from having an open heart. Will he realize how much he loves Stella before it is too late?
I enjoyed the mini history lessons throughout this book. I also enjoyed how the descriptions made me feel a part of the story. All the characters, even secondary and tertiary are well thought out and feel real in their emotions and motivations. The story does start to drag a bit in the middle, but it picks up again near the end for a thrilling end.
I received a promotional copy of From This Moment from Bethany House Publishers to read and review. All opinions are my own.