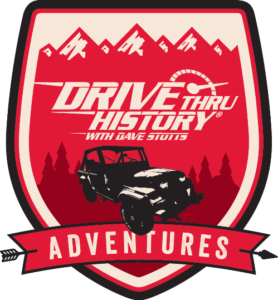 I'd like to share about a great history curriculum that has brought history alive for my family. Drive Thru History Adventures is a full history curriculum we were invited to review and so far we love it! I'll be the first to admit history is my weak link and I struggle with teaching it, but since we started the Drive Thru History Adventures curriculum I feel like history is stress-free.
The idea behind Drive Thru History is Dave Stotts (the witty and sometimes hilarious host) drives around, usually in his Jeep, but sometimes in a rental car, and explores the sights of historical events and expounds on the interesting and little-known facts surrounding those events.  Dave's humor along with the vivid scenery caught the attention of all of my kids, even the 3 year old.  We all love seeing history come alive with these videos.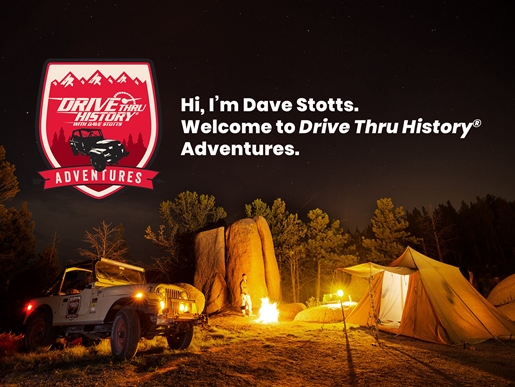 Drive Thru History Adventures is available as a subscription style curriculum, so you can choose to subscribe yearly, monthly, or if you want to try out Dave's adventures they offer a free 7-day trial.  The yearly subscription is the ideal way to go for most homeschooling families.  The annual savings is over $30 from the monthly price.  You will have plenty of time to go through any or all of the courses as well as have access to Adventures TV for the duration of your subscription.  You can check out the options and see what's included in each here.
Drive Thru History Adventures currently has three courses:  Bible History, Ancient History, and American History.  We dove right into the American History course and we are really enjoying it.  Each lesson features a video and lots of resources to ensure success.  The resources include articles, excerpt papers, discussion questions, worksheets, and suggested readings.  The resources are keyed to middle and high school levels, but the videos are great for everyone.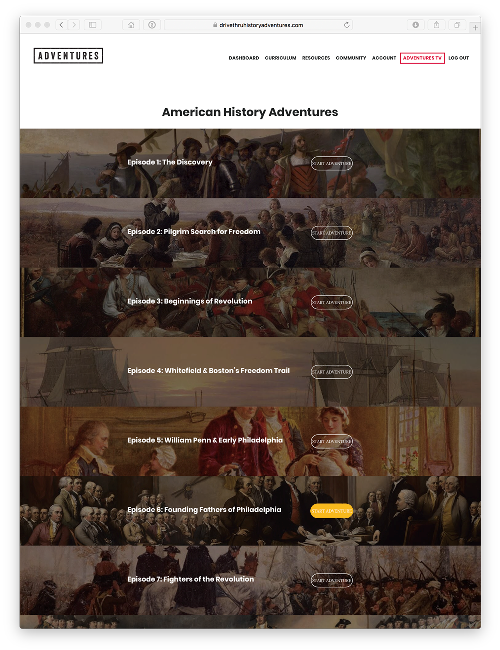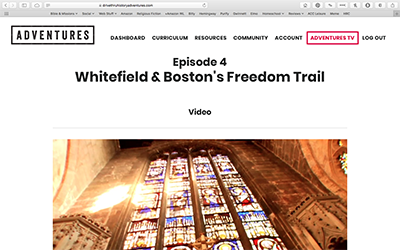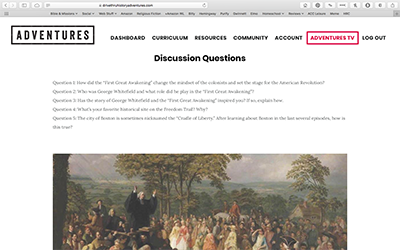 We have been watching the videos together as a family then discussing the highlights, but my 12 year old son (7th grade level) has been the one working on the full curriculum including the worksheets and extra readings.  He usually watches the video again on his own and works through the lessons. I asked his opinion and here's what he said:
"I am focusing on the American History curriculum. I liked the Boston Freedom Trail episode best because of the obelisk on Bunker Hill. I like when Dave jokes around about the city or town that he is in. I also like his seriousness when he is talking about God. The contents of the curriculum are full of fascinating facts and good questions."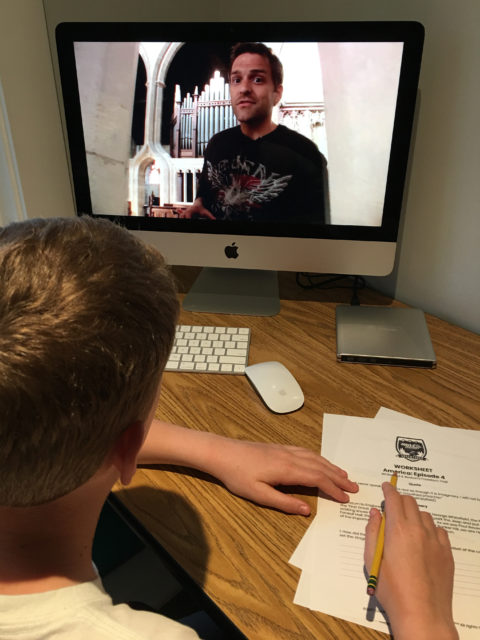 Adventures TV includes lots of great and interesting videos including weekly updates, holiday history videos, behind the scenes, and digging deeper videos.  We have especially enjoyed the holiday history videos like the History of Groundhog Day and History of Saint Valentine's Day.  Being able to learn the true history behind these little holidays has been a great added bonus to using the Drive Thru History curriculum.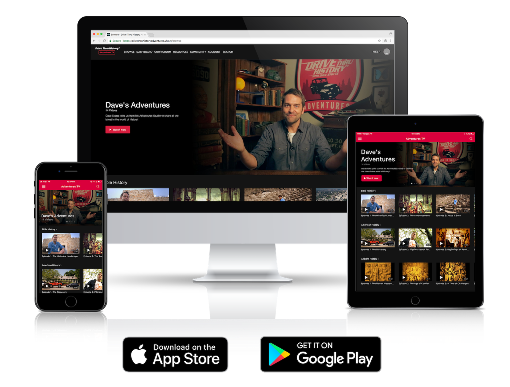 Another thing I really love is how many options we have to view the Drive Thru History Adventures! You can watch Adventures TV on any Apple or Android device, Roku (via the Vimeo App), or any internet browser-enabled computer. We were able to watch the episodes as a family on our TV and not be crowded around a computer screen.
The last cool thing I want to mention is with your subscription you will have access to a private Facebook group where you can get updates, ask questions, and interact with others using Drive Thru History Adventures. It is a great and welcoming group.
I highly recommend Drive Thru History Adventures' yearly subscription for homeschooling families who want more than a plain textbook history course! At the moment you can get a free DVD set of "The Gospels" (a $89.99 retail value) when you purchase an annual subscription. Click here to check out Drive Thru History Adventures or to subscribe now.