Our family loves being outside and when the weather is nice you will often find us around a campfire roasting marshmallows. The kids love making s'mores and often ask to roast marshmallows, but sometimes a campfire isn't feasible – sometimes its just too hot or too cold, or mom and dad are too tired. For just such times the folks at Sterno have created the Sterno S'mores Maker Jr. which is perfect for indoor (or outdoor) marshmallow roasting fun!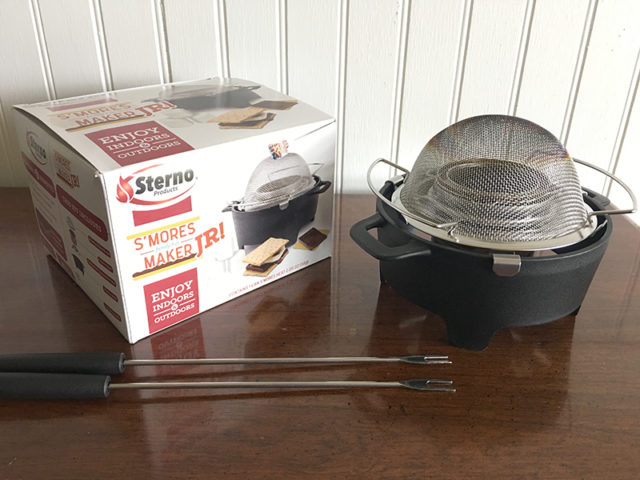 We invited some friends over to help us try out our new s'more maker and we had so much fun! Between the 5 families (including our own) we had over 30 kids. Needless to say we had to have them come through the kitchen in groups of 3 or 4 to roast their marshmallows and assemble their s'mores. The Sterno S'mores Maker Jr. Kit includes two small roasting forks, but to save time we let each child have their own bamboo skewer. This worked really well to help get everyone a turn in a reasonable amount of time.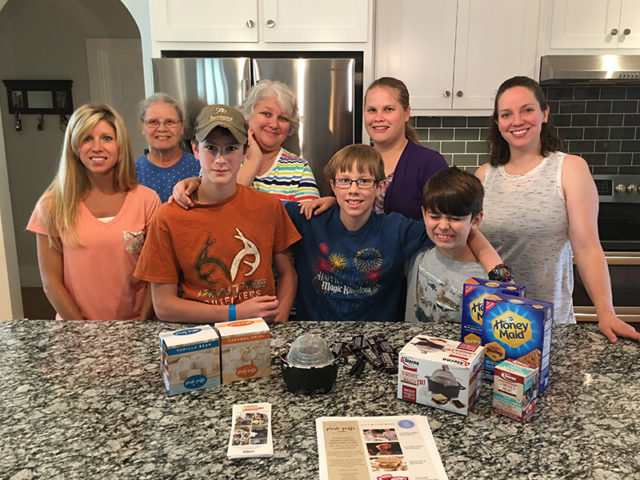 Setup of the S'mores Maker Jr. is super easy! You simply put the metal fuel holder into the base, add the S'mores Heat® fuel can, light it, and put on the mesh guard. Within minutes you are ready to toast and roast yummy marshmallows!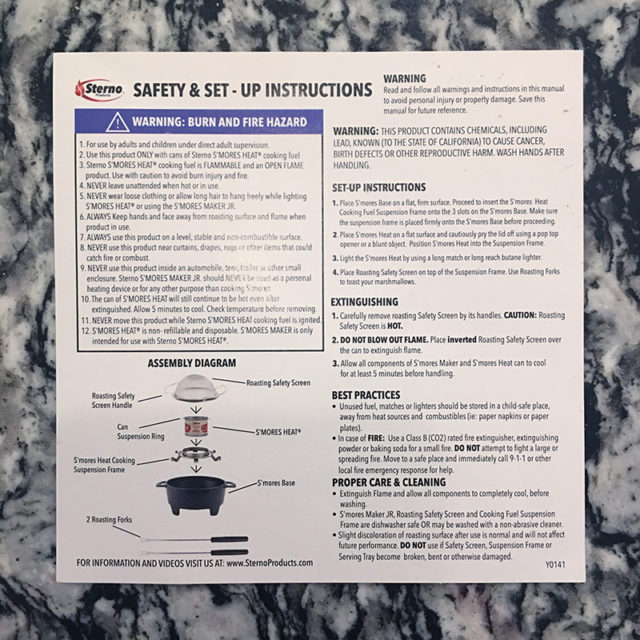 One of my favorite things about this little gadget is the size! It is small and compact so it doesn't take up a lot of room when in storage. The box measures 6″ x 5.5″ x 4″ which will fit just about anywhere in my cabinets or pantry. It is always there to pull out and have a quick (or not-so-quick) s'mores dessert.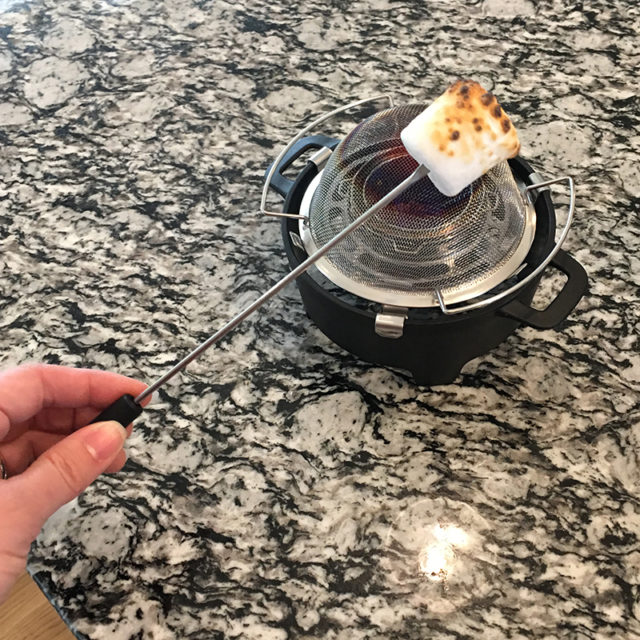 Of course the small size does mean it is limited when in use – we found that only about three people can successfully roast marshmallows at the same time. This is not a big deal for us, it is a good time to work on our skill of taking turns, but I could see where this might be an issue for some families.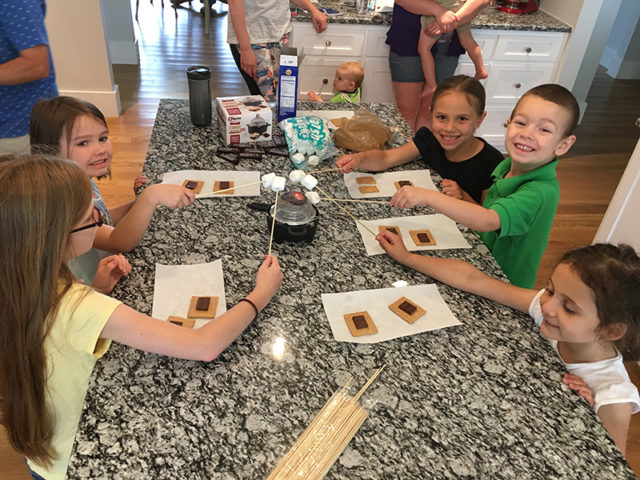 The Sterno S'mores Maker Jr. gave off no noticeable fumes throughout our party and it only smoked if marshmallow dripped into it or touched the mesh flame guard. This makes it perfect for using inside. That being said you could totally take this on-the-go as well! It would work great on our porch, in the yard, or just about anywhere a flat surface is available. (Keep it flat and away from flammable objects!)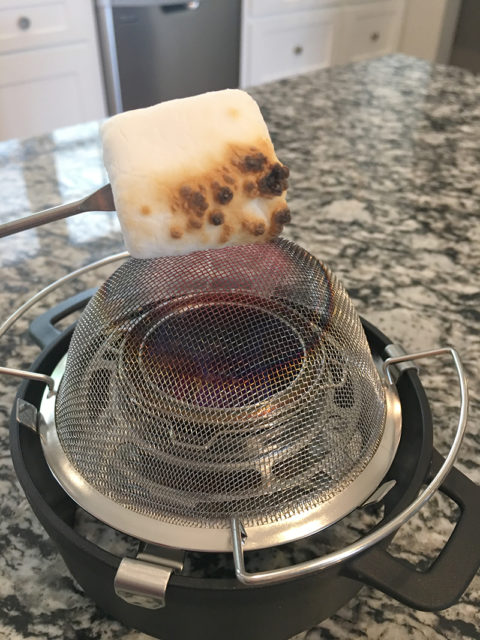 If you aren't familiar with these little Sterno fuel canisters, the larger versions are most commonly used under buffets during catered events. The fuel inside is a purple gel (so it doesn't spill easily) you simply light it with a long match or long lighter.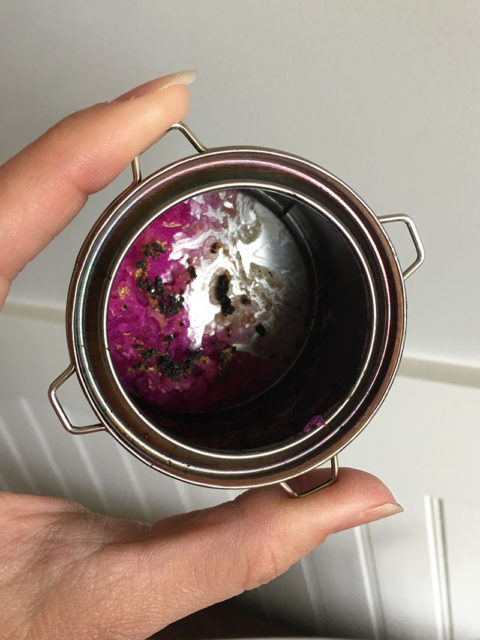 The S'mores Maker Jr. holds the small canisters of S'mores Heat® and they burn for about 45 minutes. This one can lasted through our party plus our family has lit it three or four more times since then to roast 3-5 marshmallows each time.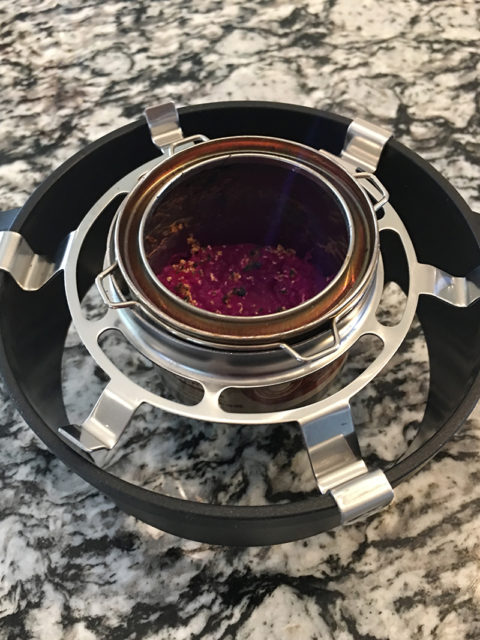 When we were all done, clean up was a snap. We extinguished the flame by simply putting the lid over the fuel canister. Once everything was cool, I simply washed the mesh flame guard with mild soap and water to remove the marshmallow particles, then dried it thoroughly. Everything fit nicely back into the box. But of course before we bothered cleaning up, we feasted on some delicious s'mores!!
Our party pack also included some Plush Puff handcrafted marshmallows! We received two flavors: Vanilla Bean and Caramel Swirl. They are packaged in resealable bags to keep them fresh. These are so soft and squishy, especially compared to traditional marshmallows. When roasted they caramelize and begin to bubble. So delicious!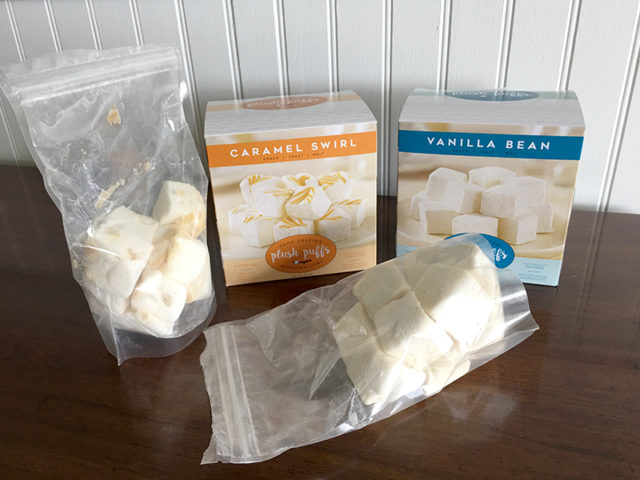 Here's a little video with the S'mores Maker Jr. in action:
At the end of our party we had a drawing for a lucky family to take home a Sterno S'mores Maker Jr. as a prize! My friend Kelly won the drawing. I think she was a little excited.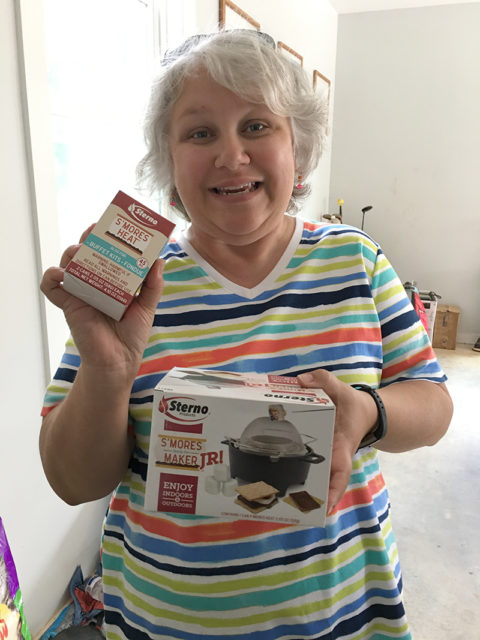 Big thanks to Sterno, Plush Puffs, and Tryazon for this awesome party kit!