Lu Lu has seen me working on her big brother's quilts for ages now. I had planned on waiting to make her a quilt until she was a little older, in her own room maybe (and not sharing with her 3 brothers), but when Booger recently got to put his newly finished quilt on his bed, she was in awe.
I heard those little words. "Can I have a quilt, Mommy?"
Um… of course. Why not? I can always make her another when her tastes change, you know like three seconds years from now.
So I started checking out all the adorable fabric lines for girls. Let me tell you this: there are about 500x more girl fabric lines than boys. Choosing "S'More Love" for the boys' quilts was a piece of cake. Lu Lu's final choice took much more.
I asked her what colors she wanted in her quilt (challenge #1). I thought for sure her favorite color (purple) would be the first thing she listed. Nope. I even double checked and she said no.
Pink
Blue (light blue, not dark blue)
Yellow
maybe Green
Ok. Thank you Little Miss 3 year old color expert.
My next challenge was letting her choose which fabric line she liked (from my top 3-4 favorites). I made a pinboard on Pinterest with swatch sheets from about 10 different lines from owls to castles. I narrowed those down to those with the colors she rattled off which was not easy despite the seemingly endless fabric lines to choose from.
Once she decided on which one she liked I double and triple checked to be sure that was the line she wanted. I could just see my ordering it and she'd change her mind, or worse still I'd be half way or almost done with the whole thing and she'd say she didn't like it. I probably won't ever say this again, but I love how she wasn't wishy washy.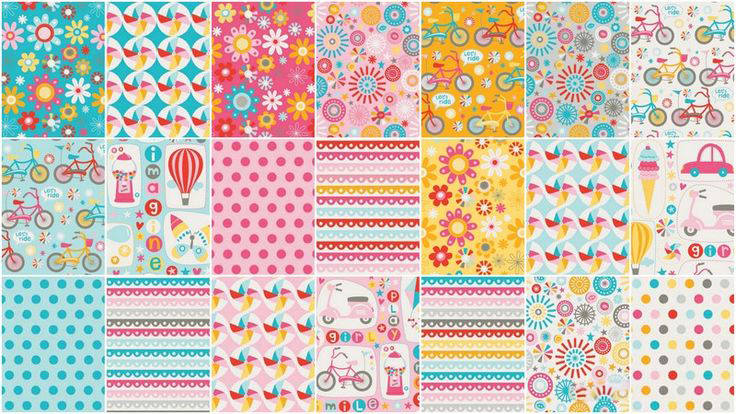 From there I decided on a pattern. Again I asked her what shape she'd like (all the while praying she wouldn't want hers to be the same pattern as her brothers') and she pops out with "triangles".
Whew! I wouldn't have to repeat that design again just yet. Wait, triangles?! Oh geez! Up to that point I'd only tried triangles on some quilted pot-holders for a friend and they turned out a mess. Well, only I thought so, but still I like the points to match and they hadn't.
So to save myself some time and headache of a bazillion half square triangles to deal with I decided to grab a Layer Cake (10″ squares) of the line Lu Lu chose – "Girl Crazy" by design by dani for Riley Blake Fabrics – and do large half square triangles (two from square). I actually needed 2 Layer Cakes for this since I didn't want to do any borders.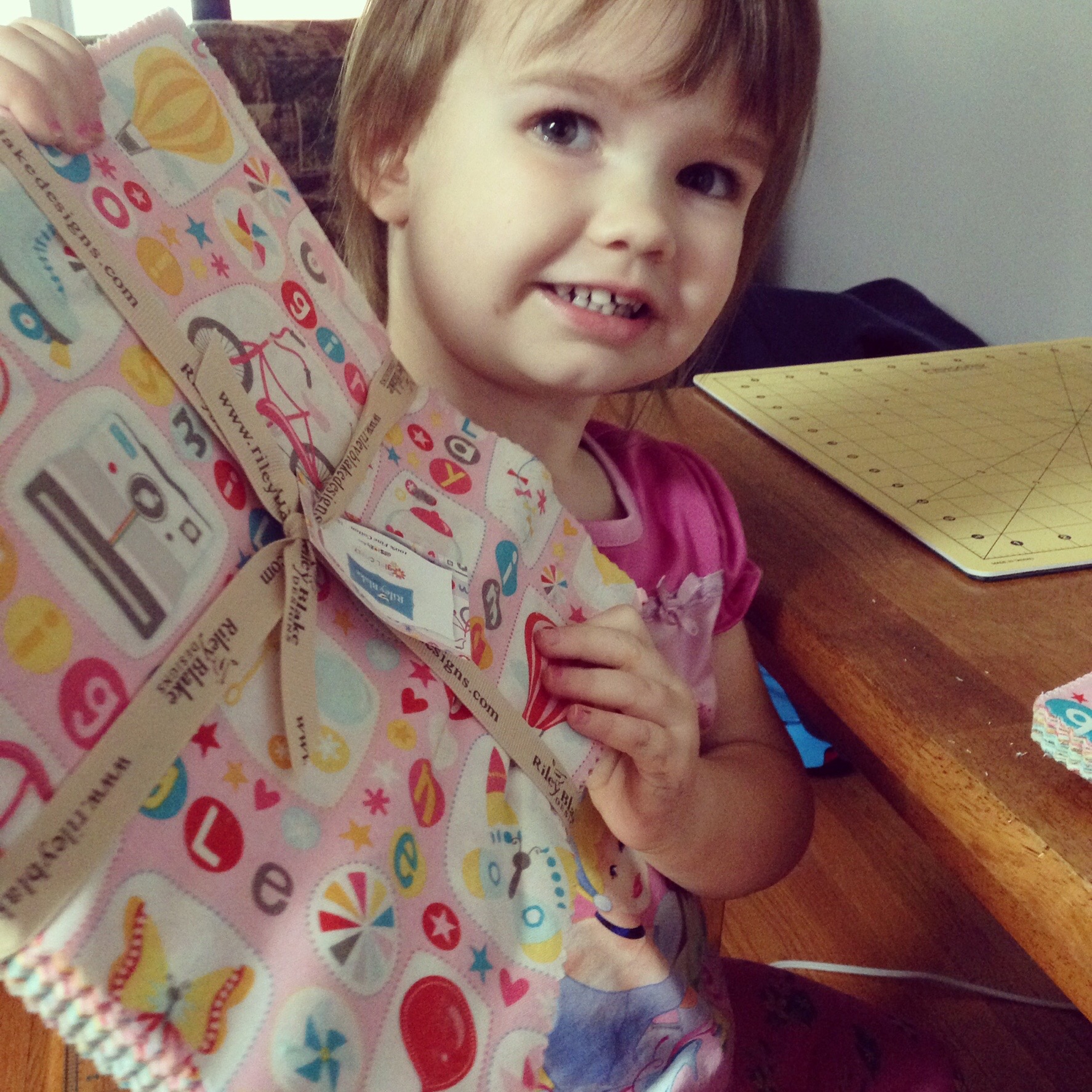 She was pleased from the moment it came in the mail. She flipped through each fabric and loved the "pink pokey dots" so I snagged some yardage for the back.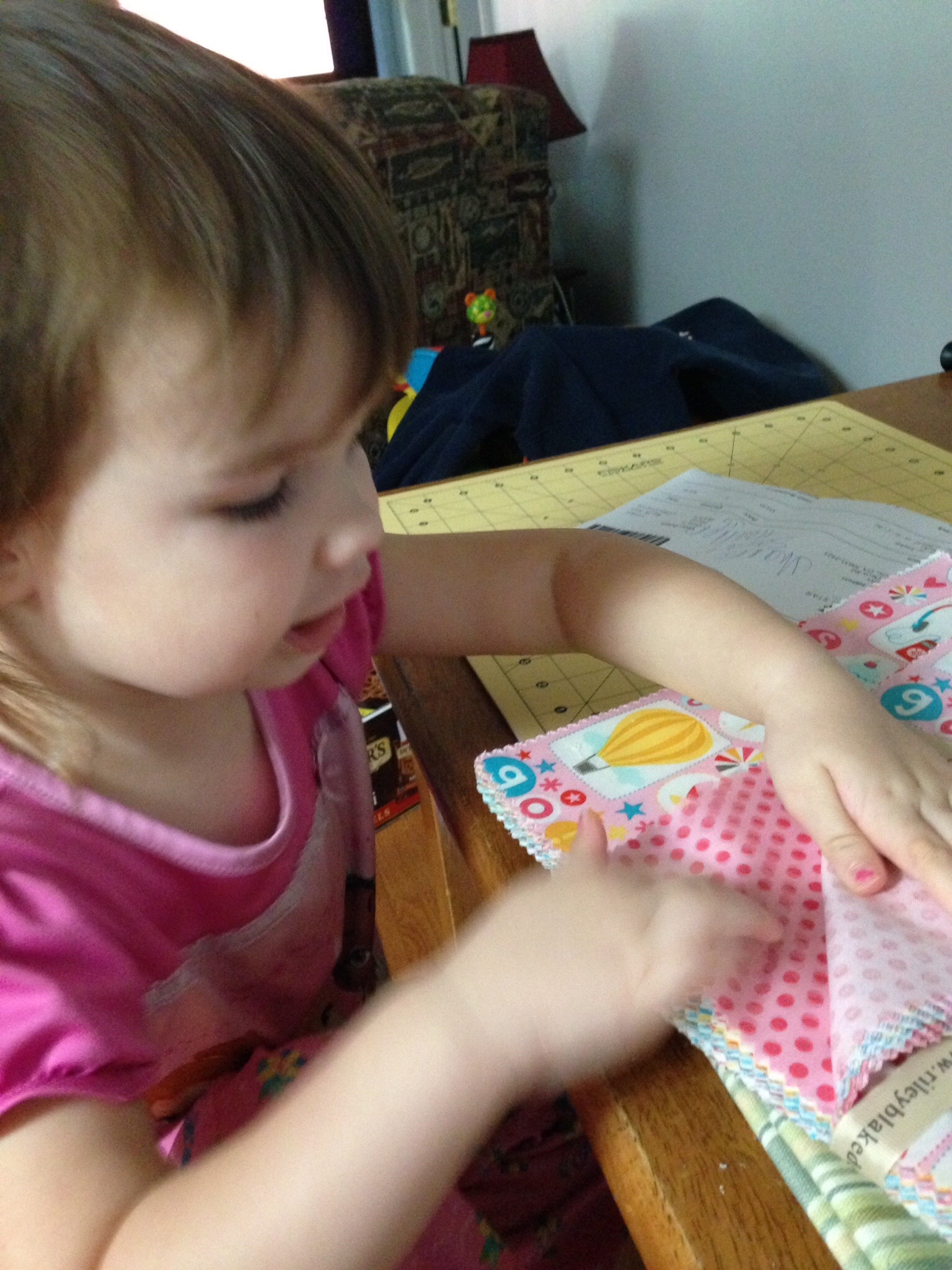 Aside from avoiding the horror of two of the same print or color touching in the random-but-not-random pattern this quilt was easy.
When the top was finished Lu Lu thought it was ready for her to use. I had a hard time keeping her off while I basted it.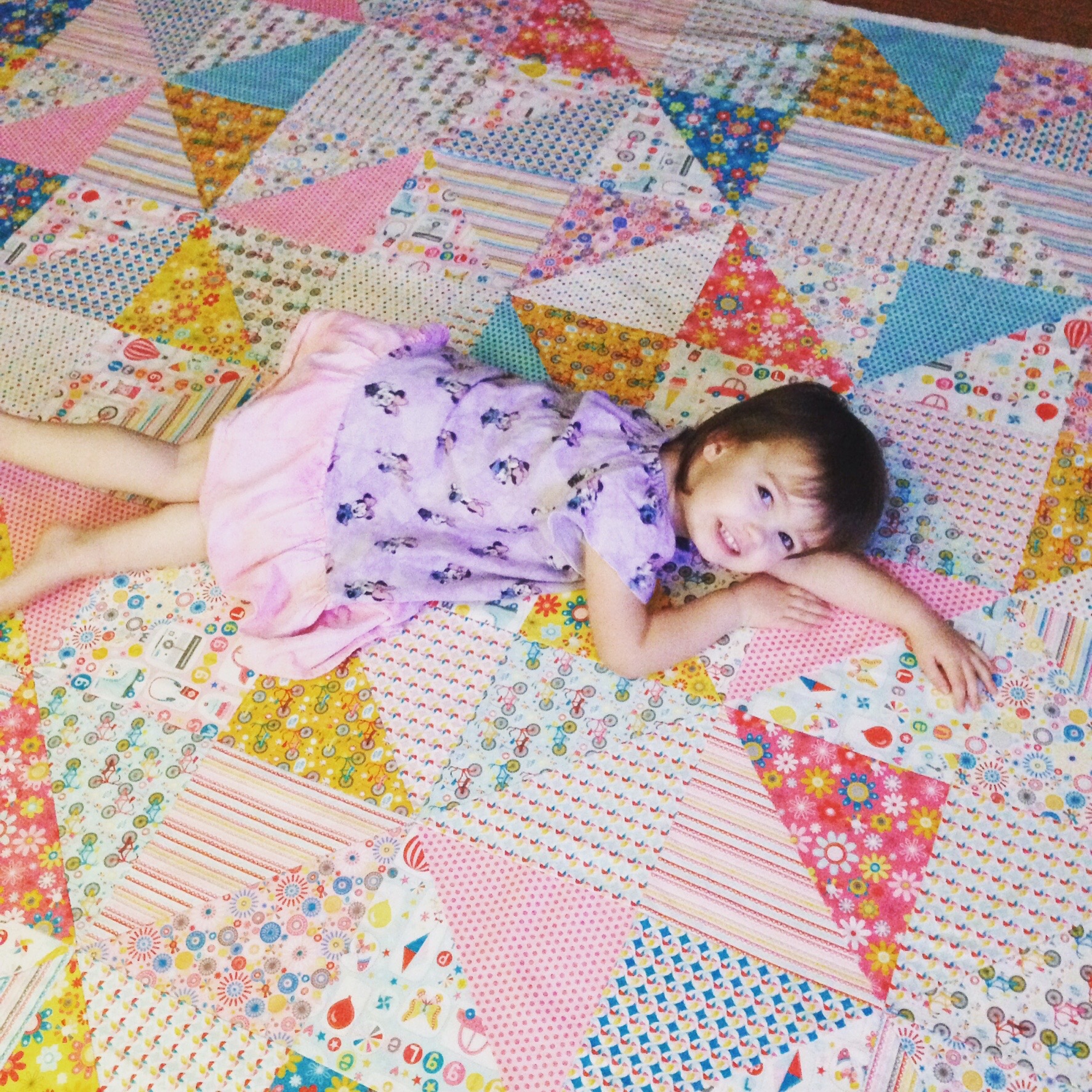 For the quilting I did a simple diagonal stitch on either side of the main squares then shifted in a few inches to create the illusion of smaller squares.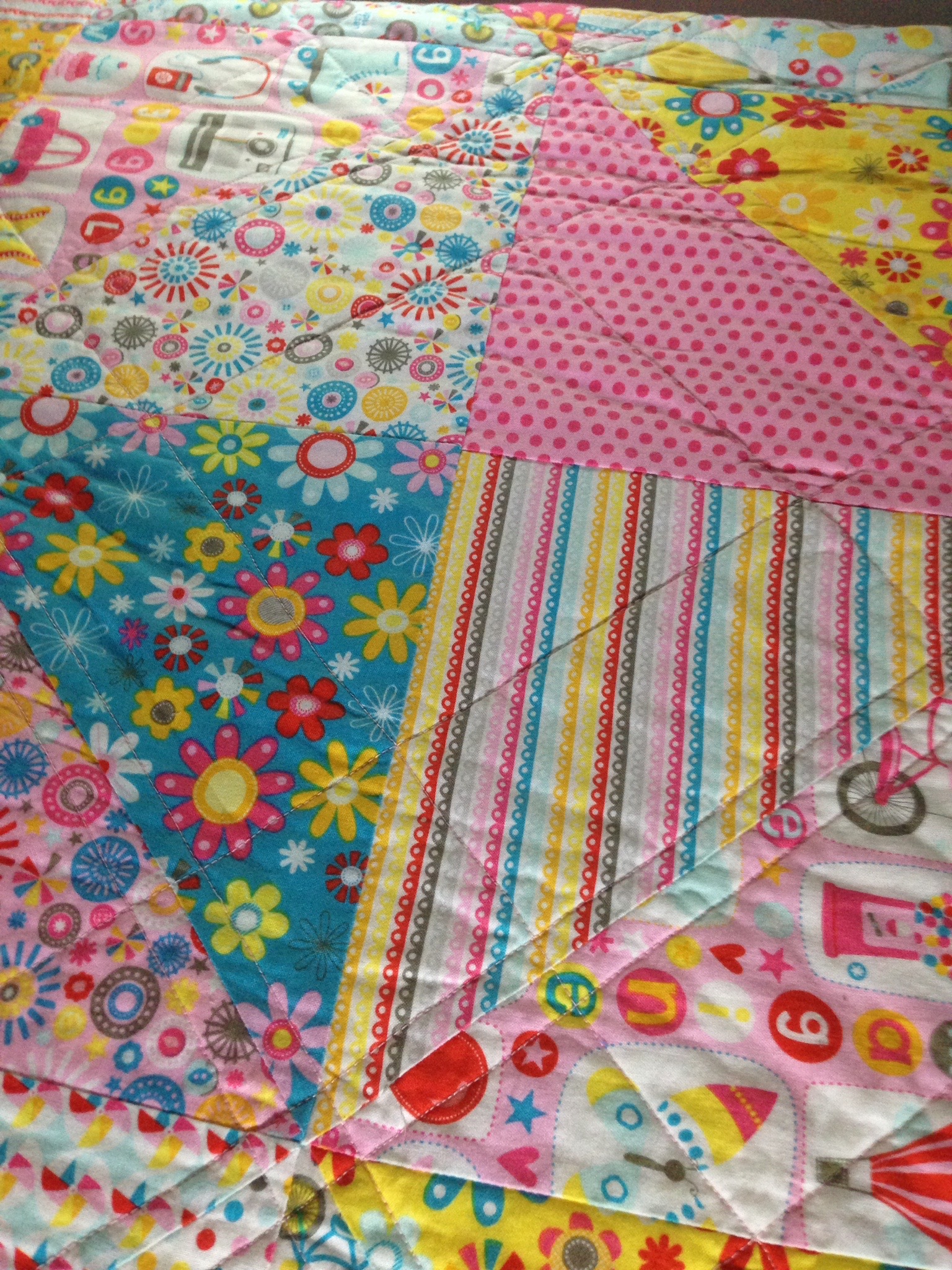 And I chose a medium gray for the binding and label. I did the label by hand in cursive – a little challenge for my novice embroidery skills.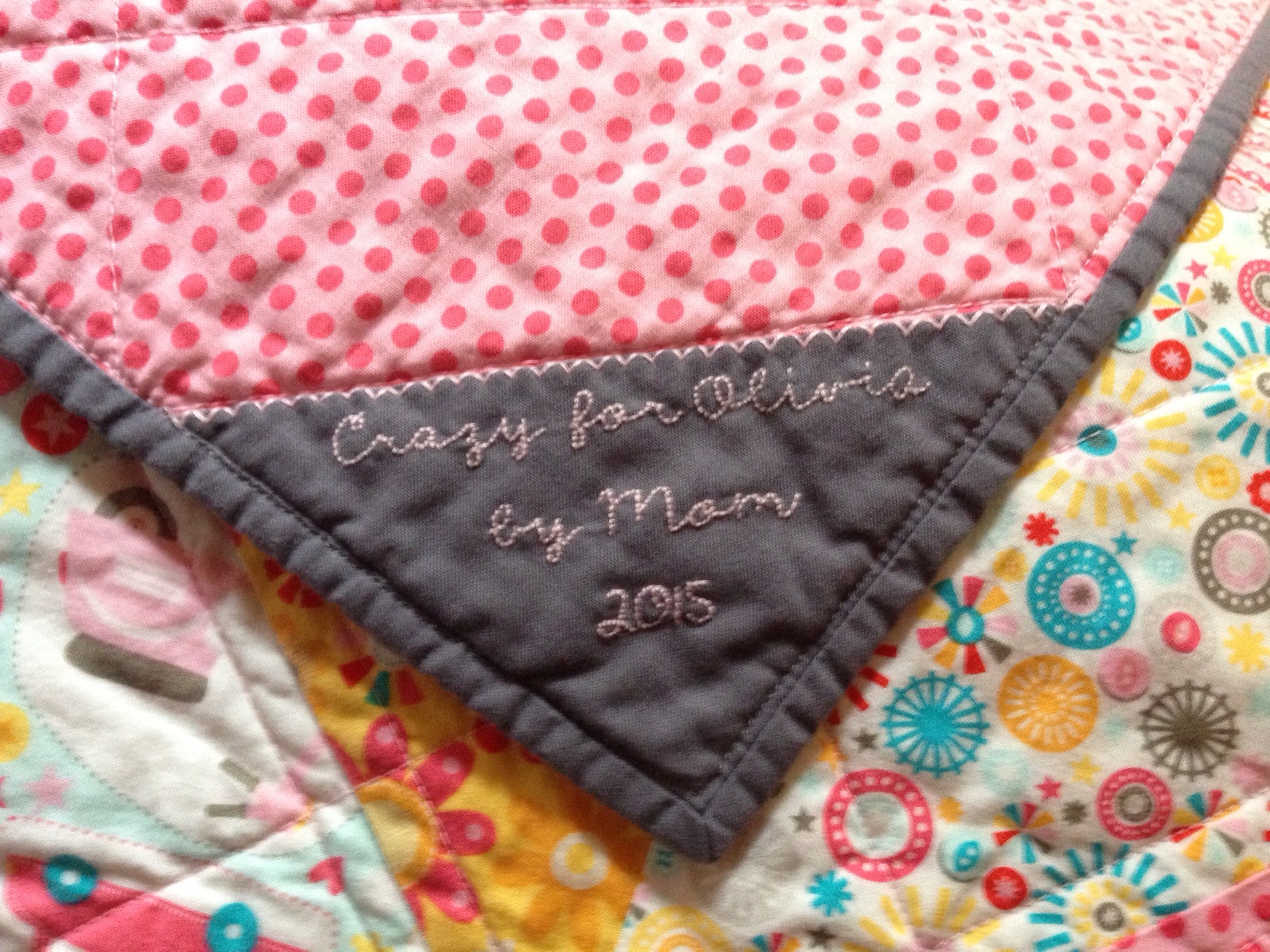 When I washed it and surprised her with it, she squealed "Thank you mommy!  You are the best mommy ever!  It's beautiful!"
All effort paled in comparison to her joy and gratitude.  She's worth every stitch.