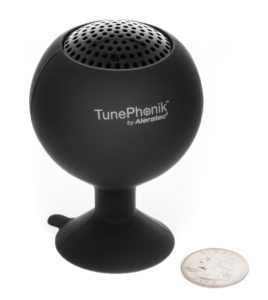 Sometimes you just want a small external speaker to amplify the music from your phone or MP3 player. This week I tested out the TunePhonik Mini Portable Speaker. This little speaker has a lot of potential, but I would make three major changes:
1) Make the cord 18+ inches longer. The headphone-jack cable that comes with the speaker only stretches to about 12″ which is way too short unless you leave your phone/MP3 laying on the surface beside the speaker and never plan to pick it up.
2) Increase the battery life. I charged the speaker for 12 hours, used it for 1 and it was dead the next day. The instructions do not say how long to charge the speaker before using or how long it takes to get a full charge. The speaker died very quickly even though it wasn't in use.
3) Add a charging/fully charged indicator light. As it is there is no way to tell if the unit is charging or fully charged.  It is a guessing game I'd rather not play.
The sound is sufficient for the purpose of this speaker. It projects your music/podcast throughout the room, but probably not much further. It did well in the car too for those of us who don't have newer cars that stream music from your device or connect to it. If you'd like to hear how this speaker compares to the speaker on my iPhone check out my review video:
I received this TunePhonik Mini Portable Speaker free to test and give my honest review.