Your kids are crying they're bored. You may not want to just hand them a screen. Maybe you want them to learn but it has to be fun or they'll smell a trap. So you need fun and interesting boredom busters. Check out TinkerActive Workbooks!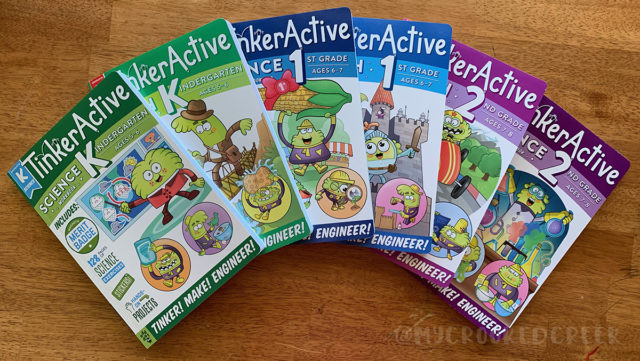 Enrich your child's skills in Science and Math for Kindergarten, First Grade, and Second Grade with TinkerActive Workbooks. TinkerActive Workbooks aren't really "work" books. They are "fun-books" filled from cover-to-cover with fun activities, experiments, things to build and more!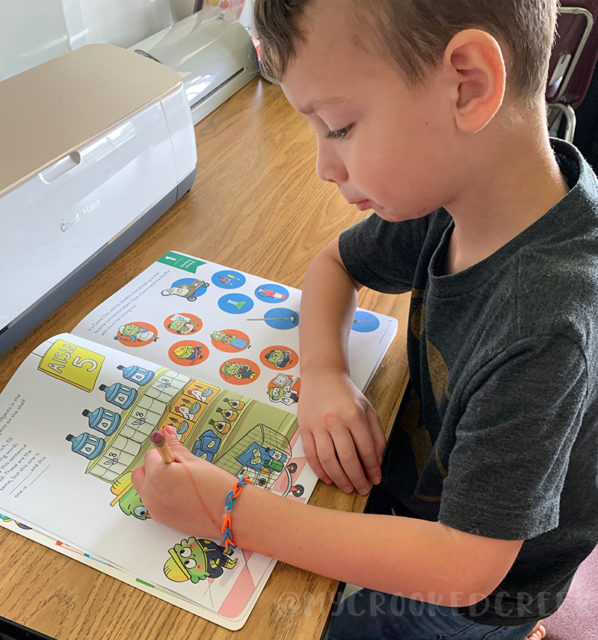 We just love how colorful every page is! Something else the kids really enjoyed was earning fun stickers at the end of each project. At the end of the workbooks, there is a special punch-out reward badge. Another great feature is the kids liked are the adorable characters (called MotMots) throughout the books who encourage kids to participate. Here's a look inside the Kindergarten Math Workbook.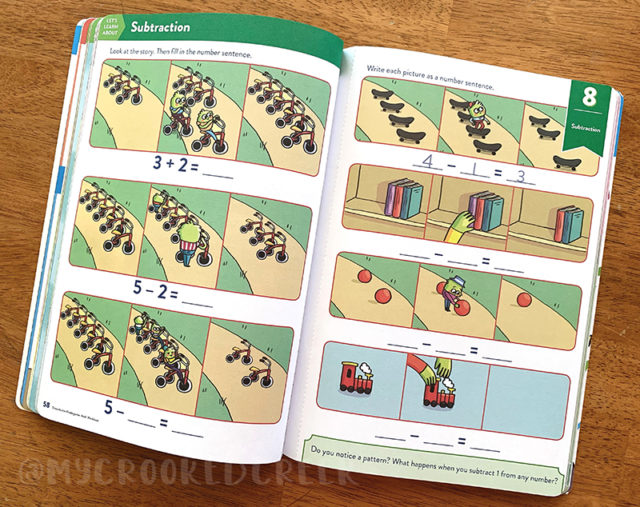 Each workbook has 128 pages of exercises (they won't even notice they are learning!) along with some fun experiments, like this one Lulu enjoyed from the 2nd grade workbook. She learned about different types of matter, matter classifications, and how they work together. She built a tower out of cups and craft sticks.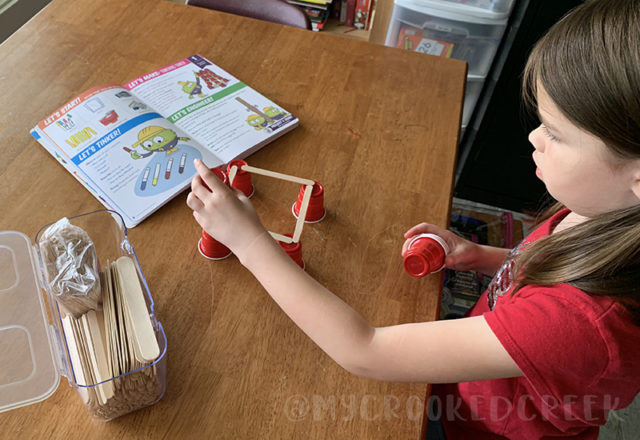 I really like how each workbook covers a wide variety of topics. For example, the TinkerActive Kindergarten Science Workbook teaches about the weather, seasons, parts of a plant, animals, and much more.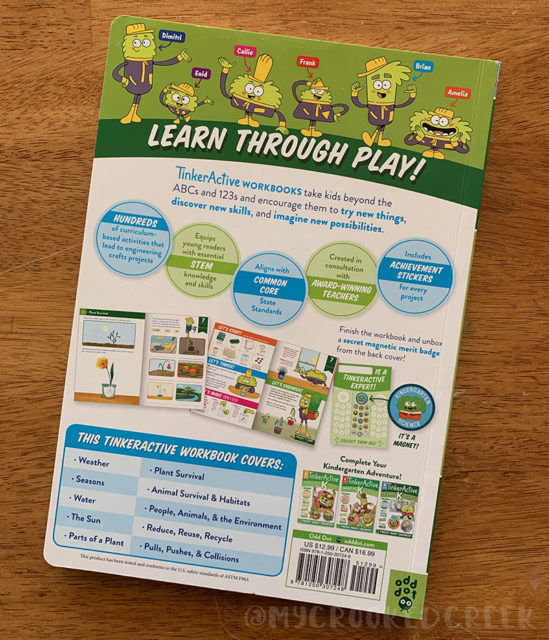 The best feature of TinkerActive Workbooks is they get kids to DO things – fun things, creative things, things with their hands, and things that engage their minds! One of Lulu's favorite projects was this sweet little robot. This was in the "Assemble and Disassemble Parts" lesson in the TinkerActive 2nd Grade Science workbook.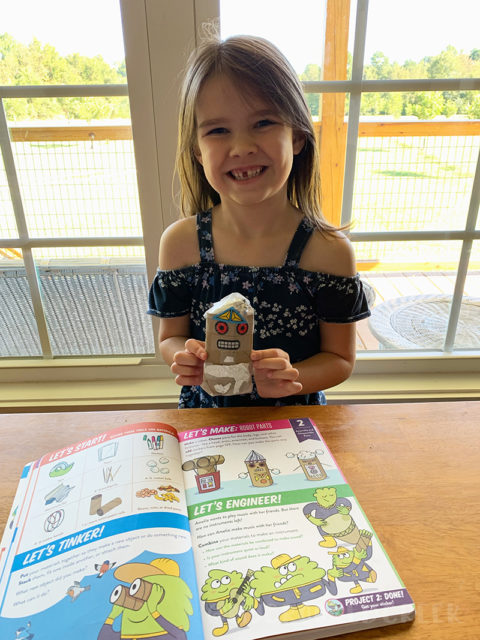 At the end of each of the 15 projects there are three activities:
Let's Tinker – Try new things – These projects often have sorting tasks and moving things around.
Let's Make – Discover new skills – Activities in this section are usually small crafts.
Let's Engineer – Imagine new possibilities – Here is where kids get to build models and more.
There is a supply list for each project. Each fun activity is age appropriate (though they may need help with some supplies and cutting) gets kids thinking and doing!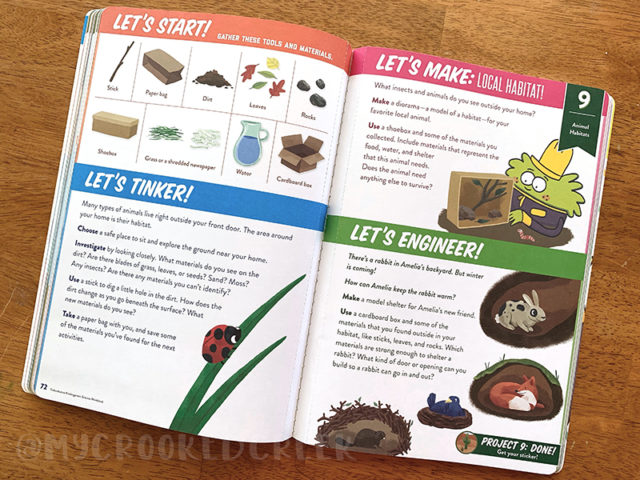 My only complaint about these workbooks is they are hard to get to lay flat. I had to use considerable force to crack the spin glue. They do have perforated pages if you prefer to remove them, but I like to keep workbooks intact.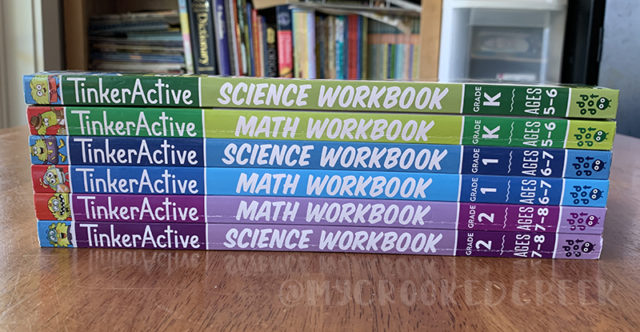 We highly recommend these fun and colorful "fun books". You can read more about TinkerActive here and on social media. TinkerActive Workbooks can be purchased wherever books are sold. You can find them on Amazon below (if you do purchase on Amazon please consider leaving a review for them!)


Last but not least check out the offical preview of these boredom busters, TinkerActive workbooks by Odd Dot:

Disclosure: I received this product for free from Moms Meet to use and post my honest opinions. Compensation for this post was provided and this page may contain affiliate links.