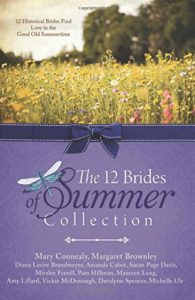 The 12 Brides of Summer Collection
by Mary Connealy, Amanda Cabot, Miralee Ferrell, Diana Lesire Brandmeyer, Margaret Brownley, Susan Page Davis, Pam Hillman, Maureen Lang, Amy Lillard, Davalynn Spencer, Michelle Ule, Vickie McDonough
I've read lots of novellas recently, but I think this is my favorite collection so far! All but one or two are some of the most interesting stories I've come across in a while. I think you'll enjoy these short and sweet stories that only take about 3 hours to read (or less if you're a fast reader.)
The Honey Bride by Diana Lesire Brandmeyer – 4 stars
Katie comes to depends on Pete for help and protection after her father dies, leaving behind a debt she can't pay without facing her fear of bees. The story and plot are good, but the love story just didn't feel real to me for some reason.
Dog Days of Summer Bride by Margaret Brownly – 5 stars
Marilee, an uppity music teacher is confused by the weekly disappearance of the stray dog she took in. Jed, a victim of the rumor mill wonders why his dog also disappears during the week only to return on Friday smelling like perfume. I LOVED this one! I love the humor and uniqueness of this story!
The Fourth of July Bride by Amanda Cabot – 5 stars
Can Gideon and Naomi keep up a fake engagement all summer? Naomi needs the financial assistance to pay for her mother's eye surgery and Gideon wants his own mother to leave off with the matchmaking. This one is another unique story that shows how God can make all circumstances work together for good.
A Bride Rides Herd by Mary Connelly – 5 stars
Betsy needs Matt to help with her VERY unruly charges while her neighbors are on a cattle drive. Sparks fly between them as they work together to run the ranch alone. I loved the humor and the emotion in this one.
Blue Moon Bride by Susan Page Davis – 5 stars
Joe and Ava make friends on the train west, but after being robbed their lives become entangled. Luckily neither of them mind very much. This was an adventure about finding yourself (and love) along the paths God puts you on. I liked the bit of suspense in this one.
The Dogwood Blossom Bride by Miralee Ferrell – 5 stars
Will has feelings for Gracie, but he puts distance between them when her tomboyish ways start to put his niece in more danger than he is comfortable with. This one starts out humorous and is a good example of how unrealistic our fears can become when we don't trust God to take care of us.
The Lumberjack's Bride by Pam Hillman – 5 stars
Lucy's family drags her to a lumber camp in Mississippi from their home and her suitor in Chicago. Eli is a lifesaving lumberjack who isn't afraid to help out in the kitchen or show Lucy what she's been missing in the wilderness. I thought this story a refreshing break from the standard cowboy/wild west romances. It is a sweet story and I enjoyed it very much.
The Summer Harvest Bride by Maureen Lang – 5 stars
Sally is practically engaged but when Lukas, a handsome heartbreaker, arrives with his family to build a mill in their small town she doubts everything when feelings for him grow. This is a great romance about trust and true love. I liked it a lot.
The Wildflower Bride by Amy Lillard – 4 stars
Ian and Grace never believed in love at first sight, until it happened to them. They both have plans for their lives that don't cross, but God shows them His plans are better. I found it hard to believe in this story. Attraction is mistaken for love all too often and I don't believe you can selflessly love someone without knowing them. Just my two cents about "love at first sight". This was a cute story, just too farfetched for me.
The County Fair Bride by Vickie McDonough – 5 stars
Prudence returns to her hometown to visit her ailing father despite her less-than cordiality growing up. She's turned over a new leaf with God's help, but old patterns are hard to break. Ian is newer to town and needs help increasing the towns funds. Together they plan a County Fair and its all downhill from there. This is a favorite of mine from this collection.
The Columbine Bride by Davalynn Spencer – 5 stars
Lucy is a widow on her own to manage her farm and her two little children. Buck puts off his plans to leave the area when he sees Lucy's need for help. As he helps out, their love blossoms. I enjoyed this story as well. The romance was sweet and believable.
The Sunbonnet Bride by Michelle Ule – 4 stars
Sally's family and many others in their area have lost their homes to a tornado. As their community works together to help those in need, two men vie for Sally's hand. This story was a bit lackluster after the previous stories, but it was still sweet.
I received a copy of The 12 Brides of Summer Collection from Barbour Publishing to read and give my honest critique.