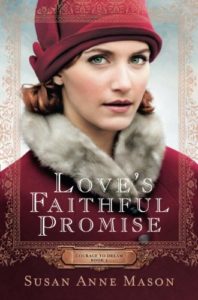 Love's Faithful Promise
by Susan Anne Mason
Love's Faithful Promise took me by surprise. This is a great case for "Don't judge a book by it's cover!" (which I'll admit to doing on a regular basis). From the simple cover I wasn't expecting to get such a wonderful and charming story. Both Deirdre and Matthew are head-strong characters who have both built walls around their hearts.
With a plethora of secondary characters and a wonderful setting of Deirdre's family home, Love's Faithful Promise is a great read for anyone who loves inspirational romance.
I received a complementary copy of Love's Faithful Promise from Bethany House Publishing. I was not required to write a positive review, only my honest opinion.