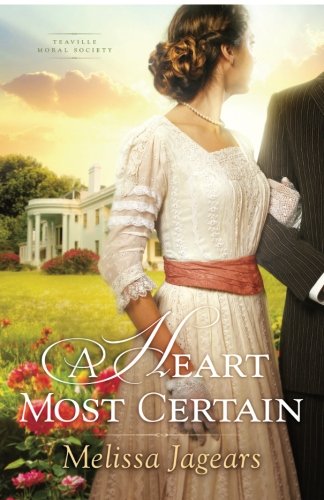 A Heart Most Certain
by Melissa Jagears
When you think you know what you want life is easy, or its supposed to be, right? Lydia is a very persistent person and will not let a little thing like Nicholas Lowe's refusal to donate to the Teaville Moral Society stop her. She needs to secure his donation to impress her potential future mother-in-law and the man who is courting her and they need those sewing machines to make blankets for the poor. Lydia needs the future she has planned to escape her father's debts and help her sick mother too.
Nicholas proves to be as stubborn as she, but tries to show her there are more ways to help people than by throwing around large sums of money. As they start to work together things begin to change for them both, unfortunately scandal is nipping their heels.
I really enjoyed the fast pace of this story. I loved the dash of mystery and suspense thrown in, but I loved the characters even more. Both Lydia and Nicholas are deep characters, full of honest emotion and reactions. The supporting cast was well thought out and made the book that much stronger.
I would recommend A Heart Most Certain to all Inspirational Fiction readers!
I received a copy of this book from the Bethany House Publishing to read and give my honest feedback.