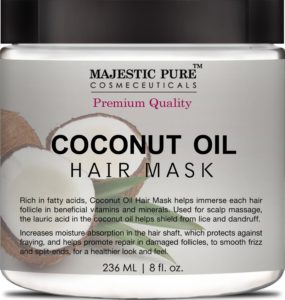 My hair is dry on the ends but my roots struggle with oil and buildup whenever I try to use a conditioner, so I had high hopes this Coconut Oil Hair Mask would help balance both. After using it twice now, I would say it works well, but I won't be using after every shampoo.
The directions say to apply appropriate amount to towel dried hair. It doesn't say what exactly the "appropriate" amount is so I just started with a quarter-size scoop and went up from there until all my medium length hair was reasonably covered. That totaled about 4 tablespoons. As directed I left it in for 5 minutes then rinsed.
I blow-dried my hair as usual and used a flat iron. I do not use any hair styling product on a regular basis. My hair was definitely softer and shiner than normal after using the Coconut Oil Hair Mask.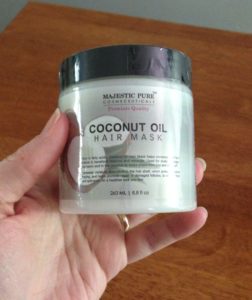 Three days later I repeated the process, but this time the Hair Mask left my hair feeling heavy and the next day my scalp was itching from the buildup. I feel this would be best if used once a week or less depending on your hair type and texture. After I shampooed again it is still soft and shiny like the first time I used it so I'm sure it continues working even after more shampoos without having to reapply.
The scent is light and pleasing. It is not an overpowering coconut smell which is very nice.
I deducted a star because I feel the instructions/directions for use were not very clear in either the amount to use on my hair or how often they recommend using the product.
I would confidently recommend this hair mask to anyone with fine dry hair to use occasionally.