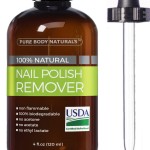 Do you see "100% Natural" and think "Yeah, right!" or do you assume it won't work as well as products that have chemicals? I do this all the time especially when it comes to cleaning products or makeup. In this case I was offered a bottle of Pure Body Naturals™ 100% Natural Nail Polish Remover and the skeptical part of me was sure this wouldn't turn out well. But in the spirit of trying new things, I agreed to review it and put it to the test.
For my test I painted my nails several different colors. We all know deep reds are harder to get off and glitters can also be a pain to remove. I dedicated my left hand to the Pure Body Naturals™ 100% Natural Nail Polish Remover and my right hand I used a drugstore brand of acetone polish remover (the super cheap stuff I usually use.) Both hands got two good coats of polish.
Here are my nails before trying to remove the polish: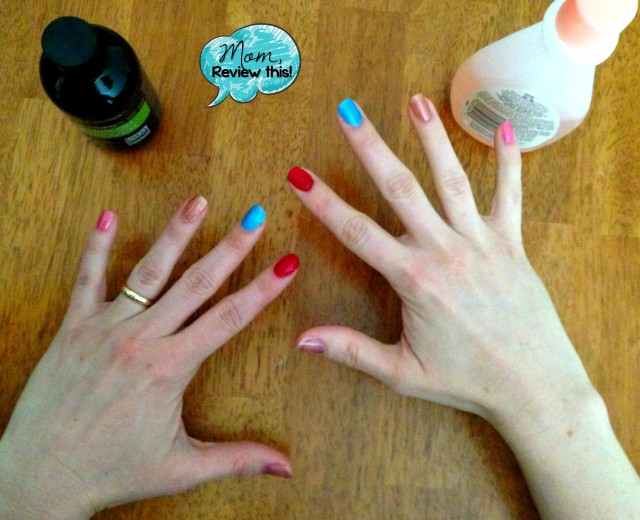 To remove the polish the Pure Body Naturals™ remover instructions say to drop or dab it on and wait 2-3 minutes before wiping. For the generic acetone remover I just apply and wipe with a cotton ball.
Here are the results: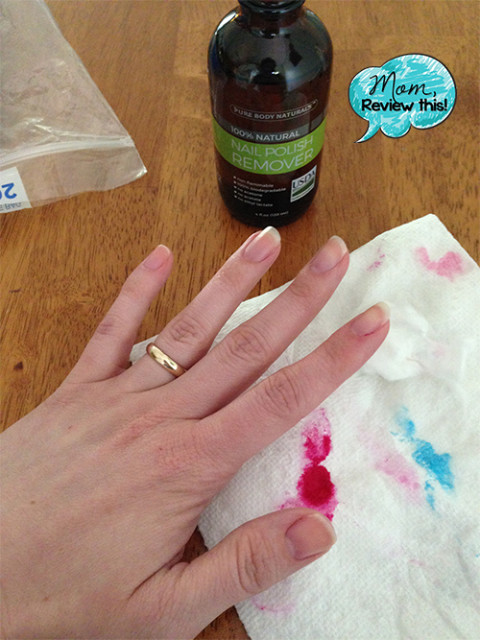 The Pure Body Naturals™ remover wiped right off, taking most of the polish with it. I did have to reapply a small amount, wait a few more minutes and all but one tiny trace of the red polish was gone.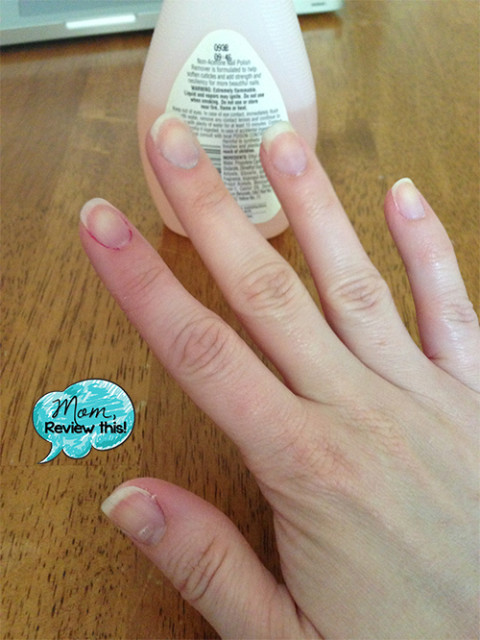 The acetone remover left polish near my cuticles even after a hard scrubbing and a second try.
So what did I like?
-I like that it works better than the acetone remover, even on the darkest red and glitter!
-I like that it did not make my nails feel dry.
-I like that the Pure Body Naturals™ remover doesn't have harsh chemicals.
-I like that it isn't tested on animals.
-I like that it comes with a handy glass dropper.
The only problem (and it could have been a BIG one) is this polish will eat through any polish, including vanish on my dining room table and styrofoam plates. No kidding. I started out thinking to drip the remover over a styrofoam plate to keep it off the table but it quickly melted the styrofoam and one small spot of the table varnish.
Only use this stuff in the bathroom over tile or a sink with no finish/paint/lacquer, etc. never over a delicate surface like your dining room table!