I've been on a mission over the last few months to improve my health by eating better and drinking more water. Unfortunately that just hasn't done much for my overall health. I've had IBS-type symptoms but with no regularity. When I was given a chance to review Country Life's Gut Connection I jumped at it.
Probiotics are a big thing right now in gut health, but Gut Connection is NOT a probiotic – these are prebiotics – to be specific Gut Connection by Country Life contains whole food fermentate prebiotic that feeds the existing probiotics in your gut. Country Life's Gut Connection is based on the idea that gut health is tied to overall health, which is scientifically supported. An unbalanced gut microbiome can lead to bloating, stomach discomfort, and irregular bowel movements. These have all been my symptoms, so I was excited to try these!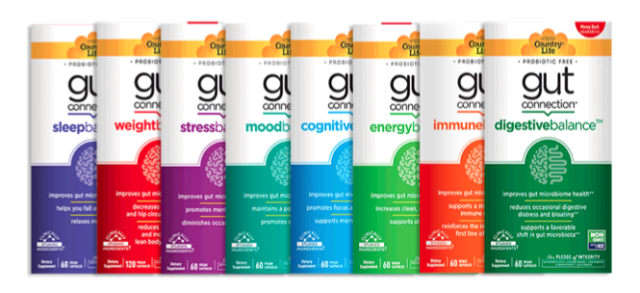 Country Life has eight varieties of Gut Connection so you can customize your body's needs while improving your gut health too:
Gut Connection™ Digestive Balance™
Gut Connection™ Immune Balance™
Gut Connection™ Energy Balance™
Gut Connection™ Cognitive Balance™
Gut Connection™ Mood Balance™
Gut Connection™ Stress Balance™
Gut Connection™ Weight Balance™
Gut Connection™ Sleep Balance™
You can read more about all the varieties at their website.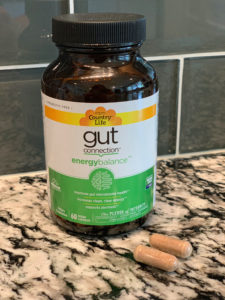 I tried Energy Balance for a few weeks then tried Digestive Balance for two weeks. Of the two I really like the Energy Balance best for several reasons. First off I can see a difference in my energy level as the day goes on. I feel less sluggish by mid-afternoon which has been nice. I'm usually dragging and wanting a nap, but while I was taking Energy Balance my digestive system balanced out more as did my energy level.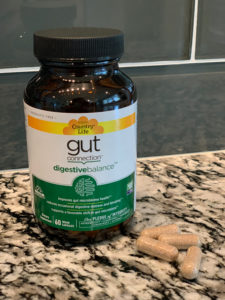 When I tried Digestive Balance, I couldn't tell much difference with my digestive system as I had already seen some improvement while taking Energy Balance. Another thing I didn't care for with Digestive Balance was the capsules have a green leafy (almost grass-like) taste to them. This might be easier to tolerate if the dose wasn't 4 capsules. Which leads me to another thing I liked better about the Energy Balance – the dosage is only 2 capsules so the bottle of 60 lasts twice as long.
Supplements can get pricey (we have to pay more to be healthy it sometimes seems), and Country Life's Gut Connection is no different. A bottle of 60 capsules of Country Life's Gut Connection typically retails for $44.95 (only $33.71 on Amazon) which is why I'd prefer to make them last as long as possible.
Something else worth noting is I checked various stores in my area and none of the regular grocery stores (Kroger, Publix, etc.) carry these. I don't frequently shop at health food or organic stores so I'm not sure if they have these varieties of Country Life. You can check their store locator to see which stores carry their brand, but you'll have to check with each store to see if they have Gut Connection. You can find them on Amazon.
They sent me a handy journal to track symptoms, meals and if I took my supplements. I honestly forgot to use it most days (several months ago I kept a very similar log in my planner, but once I pinpointed my trigger foods I fell away from tracking.) If you're interested his would be very handy.
Country Life's Gut Connection is backed by their money back guarantee (see their website for more details). Gut Connection is also certified non-GMO, certified gluten free and certified vegan. That's a lot of certifications! Country Life obviously cares about the ingredients they use which is great.
I received this product for free from Moms Meet (momsmeet.com) to use and post my honest opinions. Compensation for this post was provided and this page may contain affiliate links.