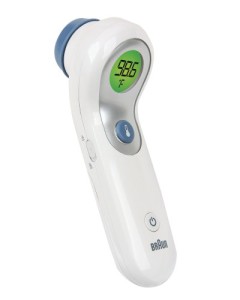 This thermometer is amazing for several reasons:
It is accurate. That's important right? Of course! I tested it again other thermometers and it holds its own very well in the accuracy department.
To touch or not to touch. You can use this thermometer on your sleeping baby or fussy toddler (or irritable husband) without ever touching them! Yep, that's right, it works up to several inches away.
No fancy hand-waving or swiping necessary. Just aim (or touch) the thermometer at the center of the forehead (between the eyebrows) and press the button.
Sound or no sound. If you want to know when the temperature has been detected the thermometer beeps, but there's a handy switch to turn off the beep if you don't want to disturb your sleeping little ones.
Green, Yellow, Red. The display rates the temperature as normal (green), low-grade fever (yellow), or high fever (red). Very handy for zombie mommy at 3am.
Lightweight and simple to operate. Again easy for exhausted parents at all hours of the day or night.
Bottom line: This thermometer beats out any other one I've tried and I will definitely be recommending it to all my friends and family.
I received this thermometer free to try from Influenster. I was not required to write a positive review. The opinions I have expressed are my own and unbiased.