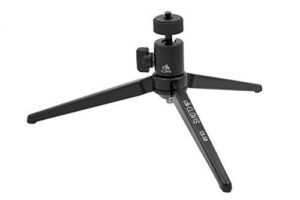 Clovis Supply asked me to review this little tabletop tripod for small cameras, camcorders, GoPro, etc. Since I've been looking for a small setup for my GoPro I figured I'd try this one out. Overall I am very pleased with this tripod.
The whole stand folds up to be about 7.5″ long and about 1.25″ in diameter. It fits perfectly in my camera bag that holds my GoPro and accessories.
My favorite feature is how the legs and body are made of metal and they will stand at several different heights. You also do not have to tighten the legs, you just adjust them out to the angle you want and they stay that way.
Though the stand is very light weight it is very sturdy. The legs have rubber pads so it doesn't scratch the surface and they also help the stand grip and stay where you put it.
I tested out both my GoPro (with a tripod attachment that is not included) and my son's Canon Powershot. The stand is rated to hold cameras up to 6.6lbs (3kg). I haven't been brave enough to try it with my Canon Rebel T3 because I'm not sure how much it weighs with the lenses I have. The stand had no problem supporting the weight of the GoPro or the point-and-shoot camera. I have a small camcorder too that also fits nicely on this versatile stand.
I would recommend the Clovis Tabletop Mini Tripod to vloggers and photographers alike who need a simple, easy to use setup for their small camera.