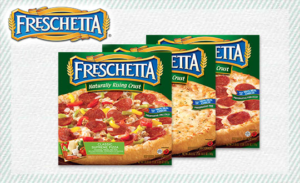 I would give the taste of this pizza 3-stars, but the fact that Freschetta® offers a healthier alternative to traditional frozen pizza earns it an extra star. My kids were most impressed with the crust. My oldest said "it was crunchy and good".
The sauce seemed to be where the enjoyment seemed to slip down. To quote my little pizza connoisseur "the sauce was too sweet".
Overall we would buy this pizza again because of the natural ingredients.
I received a free sample of this product from BzzAgent to try. I was not required to write a positive review. The opinions I have expressed are my own and unbiased.