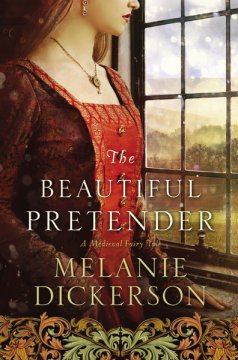 The Beautiful Pretender
by Melanie Dickerson
I'll cut to the chase: I love this book! Wow, Melanie Dickerson knows how to weave a medieval tale! Now I've gotten that out of the way I will tell you why I liked it so much.
Reinhart is consumed with regrets and fears. The king wants him to marry soon and Reinhart can barely stomach the idea. He leaves the plans to his closest friends who setup a two week get-to-know-the-prospective-brides party in Reinhart's home. Reinhart is only human and comes to prefer Avelina's company to any other.
Avelina is as down to earth as they come. She wants nothing more than to protect and take care of her ailing father and two young siblings. Avelina doesn't want to lie, but feels she has no choice but to pretend to be a lady and try to help the lord of her region. What she couldn't count on was, despite her best efforts, falling in love with the Margrave. She soon finds herself on the receiving end of pranks from other jealous women. Worse still Avelina ends up in the middle of a feud between the lords of the land.
This story is full to the brim with realistic emotion and an interesting setting, but still has a fairytale feel that will take you back to an undiscovered era. I really liked how self-less Avelina is and how crusty Reinhart seems while hiding his real emotions.
I received a copy of from Thomas Nelson Publishing to read and give my honest review.