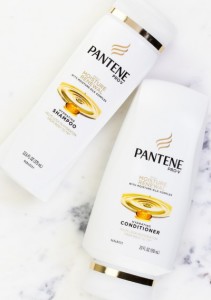 This shampoo gets the job done = it cleans your hair.  I couldn't find where it repaired any damage or made my hair healthier.  After about 4 washes buildup became noticeable and I would have to use a stripping shampoo.  I have oily hair so this may just be a product of my hair type (though the same doesn't happen with the higher-end brands I usually use.)
The conditioner is somewhat heavy so it didn't suit my already-oily hair.  I never put conditioner near my roots (only on the ends) but this conditioner left my fine hair weighed down and sticky feeling.
These have a nice fragrance and I would recommend them to those with a smaller haircare budget.
I received a sample of Pantene Pro-V Daily Moisture Renewal Hydrating Shampoo & Conditioner free to try from Influenster. I was not required to write a positive review. The opinions I have expressed are my own and unbiased.